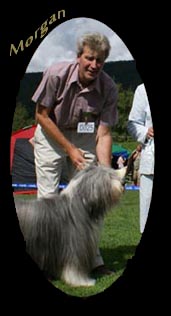 Vi bor på Billebacke strax utan för en liten by som heter Furuboda 3 mil söder om Kristianstad i NÖ Skåne.
Cesar fick han heta och vi var aktiva inom lydnad, bruks & agility.
Det var hans ljuvliga sätt som fick oss att vilja fortsätta med rasen.
We are living at Billebacke close to a small village named Furuboda about 30 kilometres south of the town Kristianstad. At that time we was doing some obedience, tracking and agility. It was him and his mentality how made us go on with the breed.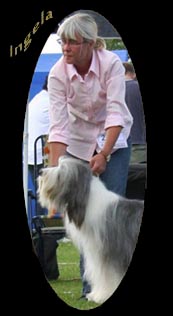 Nu ville vi även prova på utställningslivet och Daffy motsvarade våra förväntningar när han 1995 blev champion.
Adam skulle komma att bli vår allra största stjärna. Både vad gäller utställning och som stark ned- ärvare av ett ljuvligt temperament
1994 föds på Kennel Alistair's en brun tik som skulle komma att prägla vår uppfödning,

2001 kennelns första champions.
Det är kullsyskonen, Beastly's Kick Down och B's Kick Aorund. Nu hoppas vi naturligtvis på fler :o) Här kan ni se
hur många champion vi har idag.
Vi strävar efter att föda upp rastypiska och mentalt sunda Bearded Collie.
Dela våra valpköpares glädje och sorg i vardagen och i tävlingssammanhang. Våra valpköpare ger oss mycket glädje och är våra största ambassadörer.
Ett stort TACK till alla Er!
We wanted to try the show-life and Daffy did make our expectations come true when he got his Championtitle in 1995.
Adam should become our greatest star.
Not just for his success in the show rings but also for his lovely temperament who his children inherit it from him.
Born in 1994, a brown bitch in kennel Alistair's who would come to characterize our breeding,

We want to breed sound and excellent mental Bearded Collie. Share our puppybuyers happiness and sadness.
Our puppybuyers are giving us lots of joy and are our greatest ambassadors.
A big THANKS to all of You!